Adopt-A-Hive
Bee Supportive!
Adopt a bee hive and you will be helping to support and sustain healthy bee colonies that are vital to pollination and the ecology.
Your adoption fee includes 1 jar of honey, 1 adoption appreciation certificate, a couple amazing products of the hive, wild flower seeds, a coloring book, and some bee/honey literature! (*items may change based on season and availability)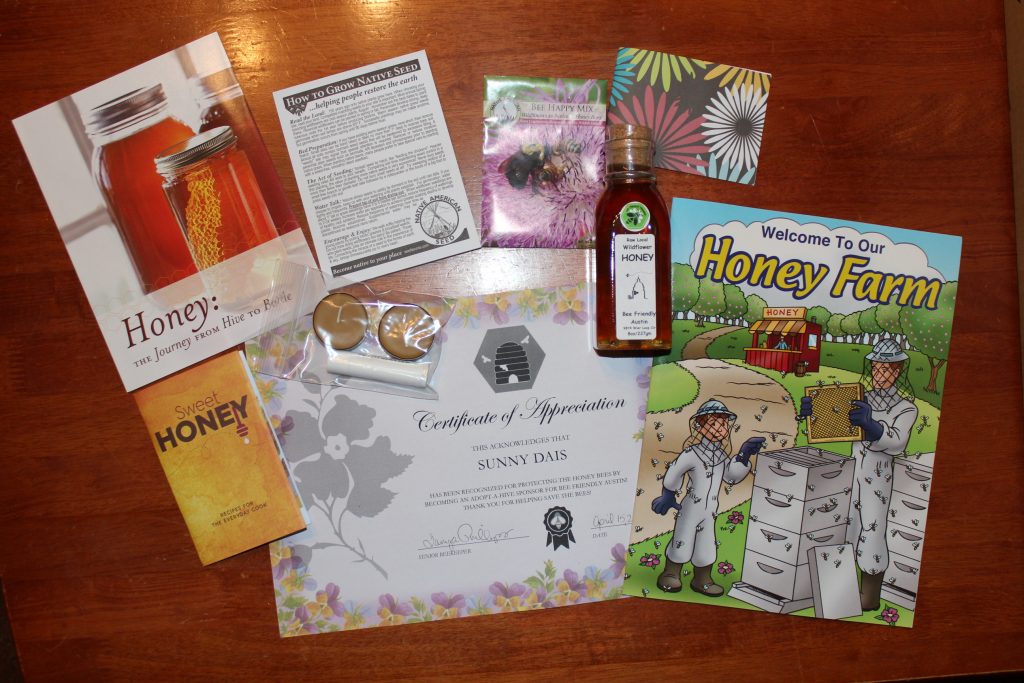 When asked for the shipping information please provide the name and address of where you want to gift to be sent. Also, choose the price level for where we will ship to. Shipping is per Adopt-a-Hive. If this is a gift, please remember to include what you want to say in the NOTES section on PayPal.
We will do our best to ship the same week you order based on the availability of all the products and will send you an email if there are any delays. We have had some delays (via the US Postal service) using ground shipping and are hoping we can ship insured via priority 3-day now with the increased shipping fees. 🙂
$50+ plus shipping. (If shipping you must choose whether shipping in Texas or out of Texas to add shipping fee, please.)
HOW YOU CAN HELP….
There are many positive actions you can take to help bees:
Avoid the use of toxic chemicals (including pesticides, herbicides, and fungicides) in your garden. Use certified organic garden products and natural pest strategies instead – they are safer, more economical and environmentally friendly.
Grow a bee-attracting garden with plants rich in nectar and pollen that bees love to feed on to encourage them to pollinate your food crops.
Provide fresh water in a small bowl for bees to access, bees can't swim, so add something for them to stand on when drinking.
Buy local honey to support small beekeepers maintain hives and biodiversity.
Swap your lawn for a food garden or natural bee habitat. Flowers, herbs, and vegetables provide a rich source of food for bees.
Buy organic fresh produce to support organic farmers and avoid genetically modified crops.
Start keeping bees at home – both urban and rural environments need bees.