Austin's 1st Annual Tour de Hives – August 17th, 2013 (8am-4pm)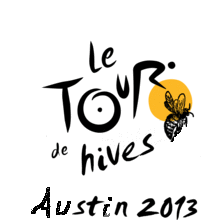 National Honey Bee Day – Saturday August 17, 2013 
Catch the BUZZ!!!  Join us for the 1st Annual Austin Tour De Hives!
DATE: Saturday, August 17th, 2013 – National Honey Bee Day
WHERE: Bee Yards within an approximate 20 mile radius of the Capitol
WHEN: Self-guided Bee Yard Tours:  9am-2pm
(Bee Yard tours end at 2pm due to afternoon heat/bee safety)
Event Activities: Ongoing at start location from 8am-4pm
Start Location: 9874 Wier Loop Circle; Austin, TX 78736
Tickets: $5 for 1 map for your carload or family up to 5 people (with signed waivers)
(NOT a pet friendly event, please leave pets at home)
The day's festivities will kick off in Southwest Austin/Oak Hill at the Bee Friendly Austin Apiary.  Ongoing event activities include: Honey tasting, mead tasting from Rohan Meadery, beehive tours, basic intro to beekeeping classes, raffle of a starter hive from Bee Weaver, beekeeping supplies for sale, and more!
This will be a self-guided tour of bee yards in the Austin and surrounding areas.  Discover how your neighbors are doing their part to save the planet one bee at a time!  Bee yards will demonstrate a variety of ways to keep and attract bees showing all the creative ways you can indulge in the art of beekeeping! We currently have stops registered in Central Austin, North Austin, South Austin, Dripping Springs & Georgetown!
You may visit each location in any order during the visiting hours listed on the map.  Maps will be available on the day of the event at event headquarters in Southwest Austin.   You will exchange your signed participant waiver for tour entry bands at your first stop. The tours will take place at people's private homes or farms and it is sincerely hoped that everyone will exhibit common courtesy and respect as they visit each location.  Guidelines for the tour are posted on the website.
Official Sponsors: Bee Weaver Apiaries & Bee Friendly Austin, LTD.
Proceeds from the event will benefit the Bee Friendly Foundation a Texas nonprofit dedicated to helping Texans become more bee friendly through educational opportunities, raising public awareness, promoting bee friendly landscaping and humane treatment of bees, grants for scientific research, and more!
Contact: Tanya Phillips – 512-560-3732 cell